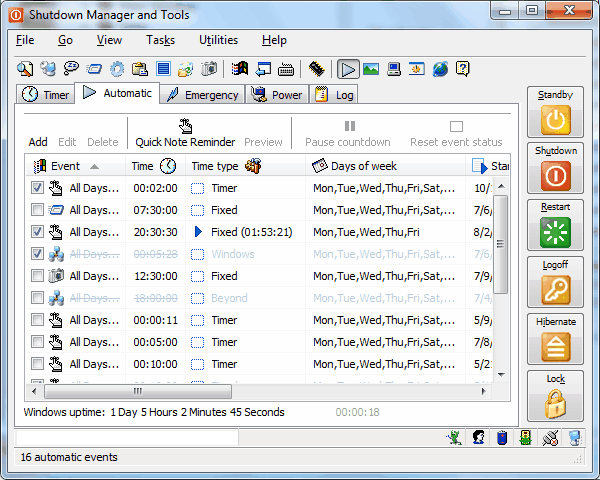 Shutdown Manager Main Window.
Thank you for using Shutdown Manager.
Shutdown Manager is a stand-alone tool, to allow:
- Shutdown of computer
- Restart of Computer
- Logoff current user
- Standby Computer
- Hibernate Computer.
You can maintain a list of hosts on your current network and connect to any of them, and process any of the required tasks (Shutdown, Restart, Logoff) remotely, and you can define security levels like:
- Hosts Names / IP's allowed to work with Shutdown Manager installed on a remote computer.
- Password protected access.
Shutdown Manager allow you to specify a time to wait before starting the process (Shutdown, Restart, Logoff, Standby or Hibernate), but also you can specify if Shutdown Manager must wait for a Window (another program) to close or change it's Title (caption) before start countdown. This means, if you use this option, that you can select this option if you want Shutdown Manager to automatically start a Shutdown with Power Off just after your download is completed, or your database task is finished, or whatever you need to specify as a Window be closed or it's title change.