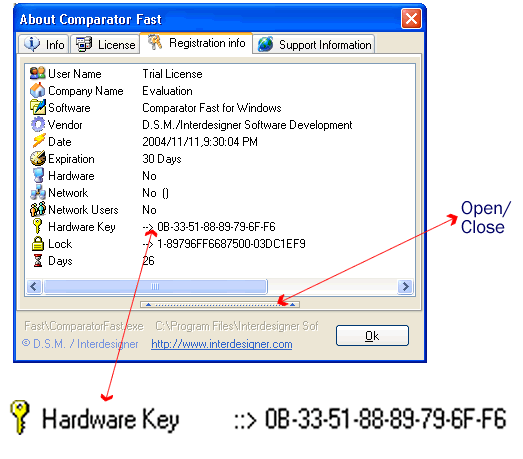 Remember you can get this window thru Help / About option in main menu. You may double click (or right-click and select Copy to Clipboard) the area where Hardware Key is, to copy all text content to clipboard. Is better to use "copy and paste" options to avoid mistakes when submit this key (paste at your email program using Ctrl-V -or the keyboard combination for your Windows / Software version-).
You should send the number of Licenses registered (starting with 1-User License, if you need any extra license, you may order it at our website with a discount of more than 66%).


Send this key to:


Optional information you may send us, but useful to faster support, are:
- Computer system (brand, model, CPU brand and Speed, over clocked?, hard drives and capacity).
- Operating System, Language and Version
- Operating System's Service Pack Installed and version
- Web address or name of the site you download the program from?.

Usually, you may use the "reply" option on your email program to send this required information.

Please be aware that we'll process your registration key to the email you used to register with us.

You'll be notified for futures FREE updates for your version by email, or you can check this anytime using the Check for update option.

Please allow 1 to 5 business day(s) to get your code.
Web Forum
You may post any support/suggestions/comments/features request to our Web Forum at http://www.comparatorfast.com/wwwboard/
Support Requests
Any support request you may need, please send it to:



Suggestions and Comments
Your comments and suggestions are always welcome. You may send it to:



Update your Profile
Any changes to your registration information (eMail, Address, etc.), please send us an email to:



Is important to keep your records updated... this will help us to serve you faster.
Do You Use Anti-Spam Software?
Many people use Anti-Spam software. If you use Anti-Spam software too and try to contact us by email, please DON'T FORGET to create a rule to accept our emails from our domain interdesigner.com
Some Anti-Spam software are so strict, that we had situations when we receive a support request or consults, and we're unable to contact that user because the emails bounce (returned to us) or sometimes we never notice that the email we sent was deleted by an Anti-Spam software because our mail server successfully delivers to your mail server, but your Anti-Spam software can block/delete our emails without notice. There is nothing we can do about this, so we highly recommend you include your phone number, fax number, and your Instant Messaging System's code (i.e.: Messenger, ICQ, etc.). Please note that this circumstance, completely out of our control, can delay our response a lot (if we can perceive our responses are not received by email).



Thanks for your choice,

Interdesigner Software Development's team

Copyright D.S.M./Interdesigner. All Rights Reserved.
All other names and brands may be claimed as the property of others.